Who turns an unknown artist into a pop star, who brings a new song to the top of the charts, who finds money to shoot and promote a film? The producers! Some people consider them to be great workers, gods of television and show business, others think they are just cold businessmen …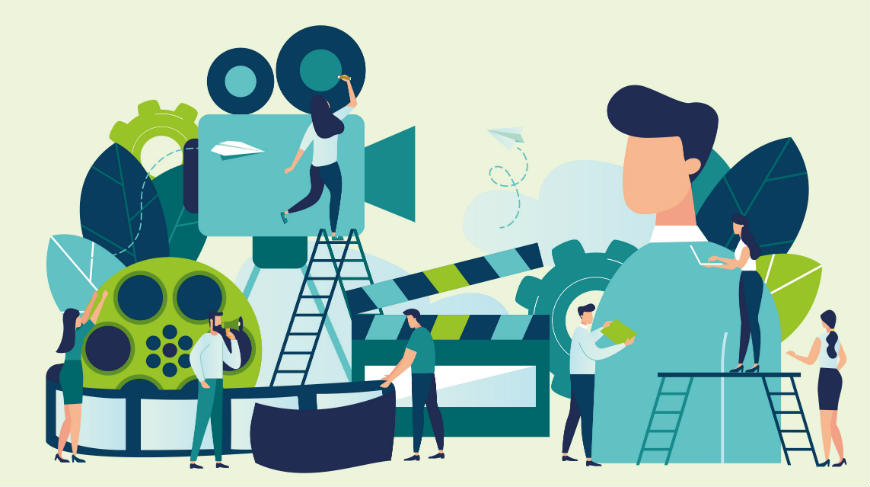 The producers are not altruists: their task is to correctly invest in the project and get the maximum income. The everyday life of a producer lies in the work with creative teams, organizing a creative process.
Today, the loud title of a producer has become surprisingly popular and fashionable. The profession of a producer seems to be incredibly profitable and prestigious, that is why a lot of people wish to become them. So, what is the main benefit of that honorary title? Why the profession of a producer is a difficult, interesting, and dangerous one?
A producer is a person who organizes the entire filming process, starting from developing a film idea to finding the money for shooting and equipment, selecting a director, screenwriter, actors, other employees such as cameraman, sound engineer, consultants, technical staff, etc.
The Difference between a Director and a Film Producer – Digital Agency London
A director heads the creative process. His main goal is a creative result.
A film producer manages the project as a whole.  His main objective is commercial success.
For these reasons, the director and producer often conflict.
The profession of a producer is a completely independent one and requires the presence of a commercial vein rather than a creative one.
The following types of producers can be distinguished:
executive — is engaged in creative aspects;
linear — oversees the financial component;
producer — without prefixes, deals with all the abovementioned things.
To become a television producer, you need to get an education in the field of cinema. In educational institutions, you can get an idea of the features of a specialist. If vocational education is not available, then you can begin to study professional literature.
To become a TV producer you need experience. You can try to produce a short film, taking up the administrative moments of shooting. Do not forget to develop communication skills: establish contacts with new people who may become candidates for your project.
At the same time, some people can simultaneously perform all the functions of a producer and influence on directing. Typically, the position of a producer is provided in film studios, on television channels and production centers. However, many work on their own.
Producer Responsibilities
project planning and implementation;
organization and control of project financing (including attracting advertisers, investors);
development and organization of marketing research;
coordination of activities of all interested parties; analysis of business indicators of the project, their improvement.
Producer requirements
Approximate requirements for the producer are as follows:
higher specialized education;
understanding of the technological processes of the project;
ability to analyze and influence business indicators;
sociability and management skills.
Often requires excellent knowledge of a foreign language, economic education, and knowledge of legislation.
How to become a producer?
To become a producer, you can get higher education in the field of television and cinema and get a job in profile (at the first stage, any initial position is suitable. In addition to education, practical skills, some acquaintances and good knowledge of the internal "kitchen" of the world of TV and cinema will be required.
Actors, directors and other participants sometimes start to involve in the production process. It is important to understand that the producer is doing business, so he must understand what people want to pay for and be able to twist the business to make good profits. It doesn't matter which profile a specialist chooses — he will become a music producer (of a group or a singer), will go to the cinema, will promote writers, show ballet or something else.
Producer salary
Compared to other professions, the producer's salary is very high: you can apply for between 30,000 and 150,000 rubles per month (average — about 60,000). Of course, the amount of income is affected by both work experience and the status of the employing company.
However, the level of completed projects is the most influential on how much a producer earns — the larger and more well-known the business, the more serious the income.
Producer or quack
You also should be ready to choose the producer and not give yourself into the first hands. It is enough to evaluate his skills, connections, and means. Today, there are quite a few in the domestic expanses who wish to excel at the expense of others, receive fabulous fees and quickly recoup their investments. Fundamental are the documents that an experienced lawyer should review before signing.
Life on Wheels
The profession of a producer is for those who are not afraid of irregular working hours. Permanent business trips are commonplace. Filming, concerts, negotiations at a recording studio and with producers of discs — all these events can take place anywhere in the world. The difference in time zones makes you forget about a full sleep, concerts — about holidays and weekends.