What is Project Management
Over the course of the development of project management, many tools and techniques have been developed to help project managers. For example, time schedules are used to control time, and in order to manage money, they effectively use the methods of forming a financial plan for a project. For the management of material and human resources, for example, a resource load chart or responsibility matrix is ​​used. You can't lose vigilance in monitoring the results of the project, because it is often difficult to formulate and control tasks. Therefore, it is necessary to use methods of quality management work.
A project is a time-limited enterprise (meaning an event), the purpose of which is to create a unique product, product or service or to obtain fundamentally new results.
Based on this definition, project management (Project Management) should be understood as the application of knowledge, efforts, experience, tools, and methods to project work to meet the requirements of the project.
And in the process of the existence of any organization, as well as in the process of implementing any serious idea, sooner or later the moment will come when you have to make a decision: use professional project management in your activities or continue to work in the previous model.
Why Project Management
As it should be assumed, organizations and companies always have a strategy and strategic goals, and within the framework of the applied strategy, certain projects are usually carried out. Project management is primarily a tool for achieving strategic goals. Simply put, effective project management allows you to not only correctly manage projects, but also to get a whole range of means to achieve strategic goals, and also provides the allocation of resources (temporary, labor, financial, etc.) only for those tasks that will be promoted by the organization on the way to solving the main problems.
When there is a single unifying principle for project selection, the use of corporate project management systems makes it possible to obtain a single picture of the portfolio of projects, allows you to control the budget, deadlines, resource consumption and overall project progress. The use of project management systems, among other things, provides the organization with transparency and opportunities to assess various kinds of costs (financial, human, time, etc.) from the perspective of project work.
The presented control and this transparency in the process of project management allow us to find the causes of deviations and cost overruns, thereby optimizing resources and reducing their volumes, which means that they can reduce all kinds of costs. In addition, systematic and structured methods of project management greatly increase the potential and competitiveness of companies, helping them achieve success and gain a foothold in selected niches.
However, one should not forget that the approaches to project management, and project management as such, are just standards and sets of knowledge if the work is not managed by a competent and experienced specialist with the necessary competencies. Without a leader, no project will have a chance of life.
What are the characteristics of project management?
First is the focus on achieving the goal;
Second is the project consists of interrelated actions;
The third is the project is always unique;
Fourth is the fact, that the project has a number of limitations, for example, in time, funds, resources, etc.
And under the project management, we often mean a set of actions that have a clear focus on the quality implementation of the project, while taking into account the limitations in cash, in time, in resources. Our agency is ready to cooperate, providing project management and project management of the highest level for its clients.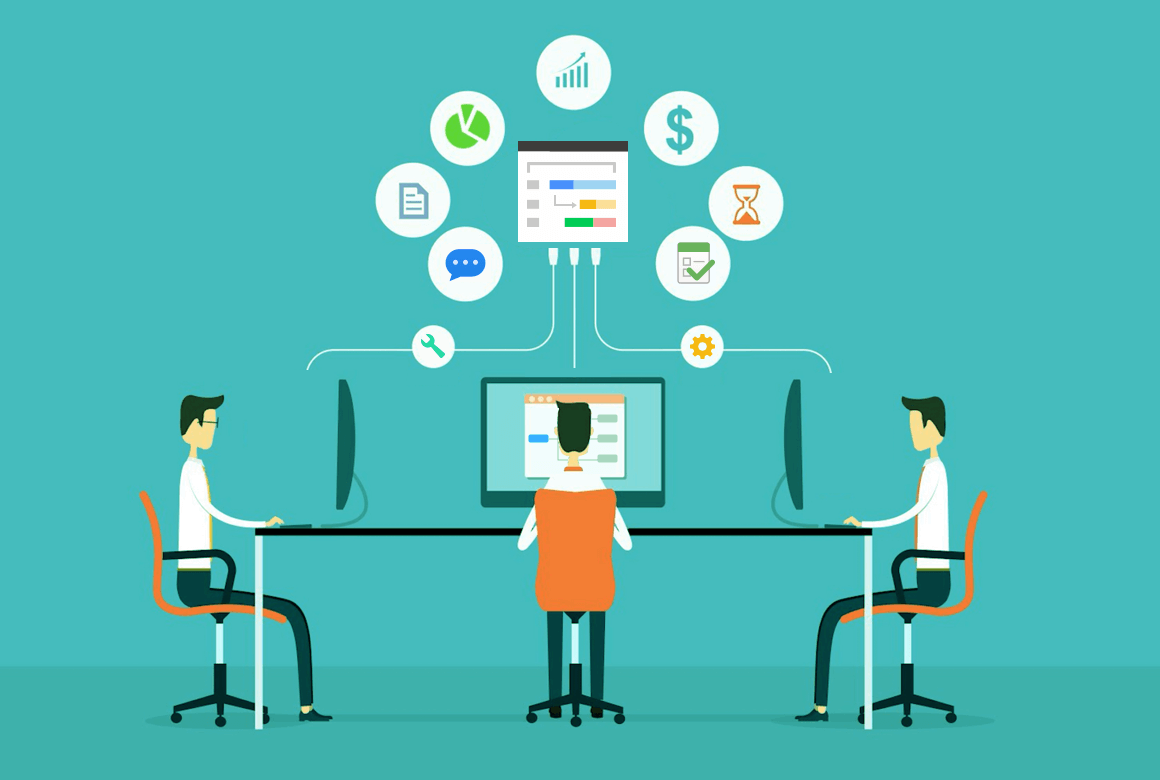 What is project management? How does it differ from traditional management?
Compare a number of signs that are characteristic of traditional and project management today:
Traditional management is focused on the course of events, while project management seeks to achieve a specific, specified goal;
Traditional management is focused on the organization, and project management – on the result;
An important characteristic of traditional management is that there is no definite deadline, and project management is often strictly limited both in finance and in time;
In traditional management, planning of the distribution of positions takes place, while in the project management, the resources used are carefully planned;
Traditional management is important workflow, and project management is more focused on the definition, and then the achievement of goals;
In traditional management, a common work standard has been adopted, and in the project management, acceptance has been accepted at the end;
Traditional management is characterized by relative reliability, and project management has predictable reliability;
In traditional management there is a danger of monotony, and in the project management – on the contrary, there is diversity, priority is given to non-standardization;
In traditional management, the permanent staff is involved, and in the project management – the project team, which varies depending on the project;
Today, many organizations and companies are used to working with traditional management, while with such management it is very difficult to recruit a high-quality project team of employees working day by day in a traditional setting. And then the output becomes the involvement of external participants and project managers.